TCD: Creating a Space for Food Entrepreneurs to Succeed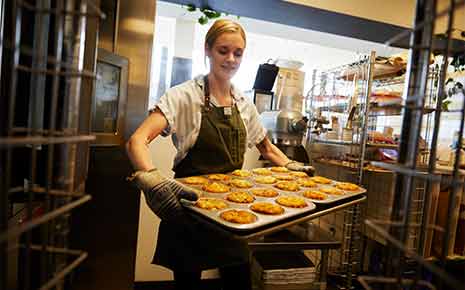 The eKitchen — an extension of Twin Cities Development's (TCD) innovative eCenter — is  designed to give food entrepreneurs a leg up by providing an exceptional space to grow their hobby into a business. TCD aims to give startups every chance at success.
Entrepreneurs can access a quality commercial-grade space without the costs of a commercial location, which may be a barrier for start-up companies. The remodeled kitchen, located in the Northfield Apartments at 2350 Five Rocks Road, Gering, Nebraska, boasts new stoves with ovens, large prep spaces, and available storage if needed. Here, budding chefs are free to test their ideas and grow a customer base.
Tenants can lease space anywhere from a few hours to a week or longer. Choice and flexibility are what it's all about. Additionally, there is access to office areas on site, and TCD offers coaching as well as other readiness tools and resources through its eCenter located at 1620 Broadway in Scottsbluff.
TCD eKitchen Resources:
Training Workshops: Hosted by WNCC & Chamber of Commerce
Startup Resources: Writing a Business Plan, Short and Long Range Projections, Budgeting, and Incubation Metrics
Aid in connecting with Angel Investors, Venture Capitalist Firms, and Traditional Funding (REAP, PADD, NBDC)
Mentorship & Professional Strategic Sources
Business Innovation Networking
Booking the eKitchen
For more information or to book the kitchen, please contact TCD. Reservations can be made Monday through Friday from 8:00 a.m. – 5:00 p.m. at our office, but the actual kitchen schedule is conveniently structured around your needs. TCD understands entrepreneurship thrives outside of "nine to five." Follow eKitchen on Facebook.
Rate and Fee Schedule
| Time/Service | Rate |
| --- | --- |
| Hourly (2-hour minimum) | $20.00 |
| Daily (8–12 hours)  | $75.00 |
| Weekly | $250.00 |
| Monthly | $650.00 |
| Cleaning/Security Deposit | $150.00 |
Our options are intended for the greatest flexibility for both budget and time with our tenants' needs in mind. In addition to pricing incentives for additional hours of usage, discounts for multiple bookings are available for longer-term use and vary by the type of time block used.
Additional storage is negotiable.